Sign up now for Spring Season CSA
Starting Next Tuesday March 15th!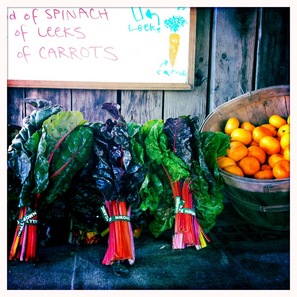 Click Here to Sign Up On-Line!
*You can also sign up over the phone: 805-967-736
*Print this email and send in your membership form with a check to:
Fairview Gardens
Attn: CSA
598 N. Fairview Ave
Goleta Ca 93117
CSA Membership Form
Name: ______________________________________
Address: ____________________________________
City, Zip Code: ______________________________
Phone: ______________________________________
Email: _______________________________________
How did you hear about us?:__________________

SEASON DATES AND PRICES
Standard Shares (1-2 people)
Family Shares (2-4 people)
Spring Season (March 15 to June 2, 12 weeks)
Standard Share $255*                            Family Share $447*
Summer Season (June 7 to Aug 25, 12 weeks)
Standard Share $255*                            Family Share $447*
Fall Season (August 30 to Nov 17, 12 weeks)
Standard Share $255*                            Family Share $447*
*Season price includes a $15 administration fee.
Pick Up Locations
☐ Tuesday at Fairview (2- 6:30 pm)  
☐ Thursday at Fairview (2- 6:30 pm)   
☐ Thursday at Wheelhouse, 528 Anacapa St,(4-7 pm)*  
☐ Thursday at UCSB, Bren Hall (3:30-7pm)*
*Add $2 per week for downtown locations.
$2  x  Number of Weeks    ______   =    $________
TOTAL $ _________________________________
*If you sign up for all three seasons take $30.00 off.
Cities as Solutions: Fairview Gardens as a model for city survival.
Friends of the Goleta Valley Library
Sunday March 13, 2011
2:00 pm until 4:00 pm
Cities as Solutions: Fairview Gardens as a model for city survival. Presented by Mark Tollefson, Center for Urban Agriculture at Fairview Gardens. Our even-larger urban areas are part of our reality, and they must become part of our solutions for the problems of food safety, distribution, recreation and quality of life. We can find answers right in our backyard. See how a small urban farm can be a model for how to thrive in an urban environment.
http://www.friendsofthegoletavalleylibrary.com
Meet in the Multi-Purpose room at the Goleta Valley Library.
---
CSA Potluck this Saturday
Please come celebrate the end of the Winter Season CSA with us!
Fairview Gardens
March 12th
11:00 am – 1:00 pm
Bring your family or friends and a dish or beverage.
Please email any questions to Lisa:
csa@fairviewgardens.org
805-967-7369
Lisa's Favorite Pot Luck Sweet Treat:
While my family and my little man love cookies and cakes especially when made with less sugar or creative toppings my family's favorite is my Mini-Tarts.
Graham Cracker Crust:
2 Packages Organic Graham Crackers
1/2 stick butter
3 Tbsp Blue Agave Sweetener
Mash up graham crackers in a large bow.  Add Butter and Blue Agave Sweeter.  Then line cupcake tins with Graham Cracker mixture.  Bake at 325 degrees for 8 minutes.   Just long enough to make them a bit crispy.
Then add your favorite filling.  My son loves Vanilla Yogurt and blue berries.  He also loves yogurt and strawberries or peaches.  Pudding is also a great filling.  The combination's are endless and you get get as healthy with your filling as you like.  Make sure to refrigerate overnight so that your Mini-Tart sets.
Enjoy!
Sneak Peek:
lettuce
beets
fennel
kale
apples
bok choy
oranges or broccoli
Recipe of the Week:Quinoa Fennel Pilaf
1 cup quinoa
1/2 small white onion, finely chopped
1 celery rib, cut into 1/4-inch dice
1 carrot, cut into 1/4-inch dice
1 small fennel bulb (sometimes called anise), trimmed, cored, and cut into 1/4-inch dice
1 tablespoon unsalted butter
1 1/2 cups water
Prep:
Rinse quinoa in a bowl in at least 5 changes of water, rubbing grains and letting them settle before pouring off water, until water runs clear. Drain in a fine sieve.Cook onion, celery, carrot, and fennel in butter in a 3-quart heavy saucepan over moderate heat, stirring occasionally, until onion is softened, 5 to 6 minutes. Add quinoa and sauté over moderately high heat, stirring, until lightly toasted, 2 to 3 minutes. Add water and salt and pepper to taste and cook over moderately low heat, covered, until quinoa is tender and liquid is absorbed, 12 to 15 minutes. 
Recipe from www.epicurious.com
Roasted Fennel Recipe
Ingredients
2 fennel bulbs (thick base of stalk), stalks cut off, bulbs halved lengthwise, then cut lengthwise in 1-inch thick pieces
Olive oil
Balsamic vinegar
1 Preheat oven to 400°F.
2
Rub just enough olive oil over the fennel to coat. Sprinkle on some balsamic vinegar, also to coat. Line baking dish with
Silpat
or aluminum foil. Lay out the pieces of fennel and roast for 30-40 minutes, or until the fennel is cooked through and beginning to caramelize.
See you on the Farm!